Bucking Units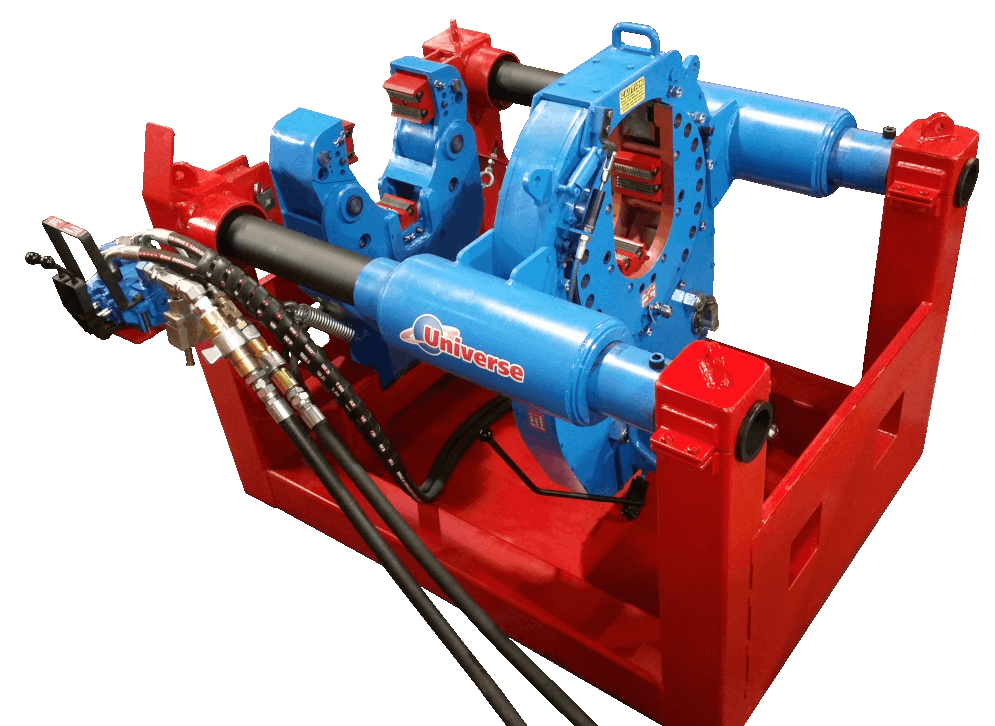 The Universe line of innovative and compact Bucking Units are designed to safely and efficiently make up & break out pipes horizontally for pipe yards, etc. Ruggedly engineered and tested to exceed today's tough requirements, Universe Bucking Units provide economical solutions for pre-assembling couplings & pipe to specified torque in a controlled environment. See sizes and specifications below.
Torque Speed Control

Two position hi-low using a high-efficient hydraulic vane motor

Radial Load Eliminator

Eliminates radial load on the joint which causes torque to be lost and axial twist through the joint which may result in cross threading damage.

Bi-Directional Compression Load Cell System Option

Two load cells which enable the operator to measure torque in both directions.

Dual Size Capability

On the 9-5/8 in model and larger the backup system incorporates a dual jaw position, which makes the backup capable of biting the casing and the coupling with the same jaws.
Specifications
Size Model
Max Torque *
Weight
Dimensions (W x L x H)
Speed (Max)
Jaw Range

5-1/2 in

140 mm

15,000 ft-lbs @ 2,500 psi

2,074 kg-m @ 17,245 KPa

2,650 lbs

1,202 kg

55 in x 65 in x 50 in

1.39 m x 1.65 m x 1.27 m

102 RPM

2-1/16 in to 5-1/2 in

52.4 mm to 139.7 mm

9-5/8 in STD

244 mm

22,000 ft-lbs @ 3,050 psi

3,041 kg-m @ 21,029 KPa

2,950 lbs

1,338 kg

59 in x 65 in x 52 in

1.50 m x 1.65 m x 1.32 m

84 RPM

3-1/2 in to 9-5/8 in

88.9 mm to 244.6 mm

9-5/8 in UPG

244 mm

27,000 ft-lbs @ 2,000 psi

3,773 kg-m @ 13,790 KPa

3,000 lbs

1,361 kg

59 in x 65 in x 52 in

1.50 m x 1.65 m x 1.32 m

41 RPM

3-1/2 in to 9-5/8 in

88.9 mm to 244.6 mm

13-5/8 in STD

346 mm

25,000 ft-lbs @ 3,200 psi

3,456 kg-m @ 22,063 KPa

3,400 lbs

1,542 kg

69 in x 65 in x 56 in

1.75 m x 1.65 m x 1.42 m

74 RPM

3-1/2 in to 13-5/8 in

88.9 mm to 346.1 mm

13-5/8 in UPG

346 mm

36,000 ft-lbs @2,450 psi

4,977 @ 16,892 KPa kg-m

3,450 lbs

1,565 kg

69 in x 65 in x 56 in

1.75 m x 1.65 m x 1.42 m

37 RPM

3-1/2 in to 13-5/8 in

88.9 mm to 346.1 mm
CANADIAN PATENTS: 2,016,319, 2,705,468, & 2,706,500
U.S. PATENTS: 5,144,868, & 8,418,586 B2, & 10,745,982 B2